When a player goes down with an injury, how quickly he or she can get back in the game depends on an accurate diagnosis and the range of rehabilitation options available.
Our expert team of orthopaedic surgeons, physical therapists, occupational therapists and certified athletic trainers understand the unique needs and pressures of sports medicine. That's why we offer the latest treatments in North Platte's largest sports medicine facility and provide access to a comprehensive array of equipment and rehabilitation options.
Our 5,900-square-foot facility, the largest in the region, allows us to perform many strength and speed therapies. In addition, our program also features aquatic therapy, which can effectively aid in and speed up an athlete's progress following an injury. The low impact and resistive use of our state-of-the-art pool offers therapists and patients a wide variety of treatment and rehabilitation options.
Nathan Jacobson, MD is fellowship trained in sports medicine and he leads a team of trainers to provide services to nineteen area high schools as well as to Mid-Plains Community College. The team hosts events directed at athletes and coaches.
Having certified athletic trainers on-site lowers overall injury rates, improves diagnosis and return-to-play decisions, and reduces the risk of recurrent injuries.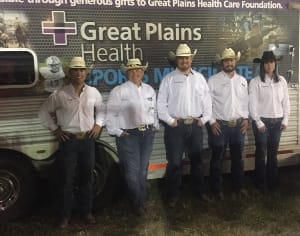 If you're injured and you need to find a way to wellness, visit our compassionate and knowledgeable team. We'll provide you with the therapies you need, advice you can trust and the compassion you deserve. We look forward to serving you.