Shelly Allen honored with Caring Kind Award
Hospital news
|
Friday, October 23, 2020
FOR IMMEDIATE RELEASE
October 23, 2020
CONTACT: Megan McGown, marketing manager, Great Plains Health
mcgownm@gphealth.org | Cell: 308.250.1493 l Office: 308.568.7531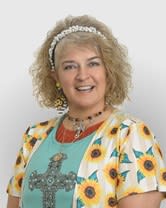 North Platte, NEB – Shelly Allen, Great Plains Health environmental services technician, has been selected as the Great Plains Health Caring Kind Award recipient for 2020.
A longstanding tradition of the Nebraska Hospital Association (NHA), the award pays tribute to outstanding healthcare employees who have demonstrated compassion for patients, cooperation with coworkers and dedication to excellence in the role they play at their facility.
Each year, NHA member hospitals and health care systems select one person from their organization to be recognized at the NHA's annual convention. Due to the COVID-19 pandemic, Great Plains Health celebrated Shelly with a small luncheon with her coworkers and presented her with the award plaque during a meeting filled with hospital leadership.
"There isn't a better representative than Shelly to be recognized with this award, said Mel McNea, Great Plains Health chief executive officer. "She is a role model in our organization, and exemplifies our mission of inspiring health and healing by putting the patient first – always."
Shelly works in environmental services on 3-East as well as in the COVID unit. During her time off, she also cleans for a local church.
"Shelly takes pride in her work on a daily basis and truly keeps the patient at the forefront of everything she does," said Gabe Behling, Great Plains Health environmental services director. "We can always count on Shelly to brighten spirits of all those she comes into contact with."
Nearly 2,500 caring, skilled and dedicated health care professionals have received this award since its inception in 1979. The award program showcases the exemplary work and care hospital employees provide every day throughout the year. Every Nebraska hospital employee plays a critical role in providing high-quality, cost-effective treatment and ensuring the safety of themselves, their co-workers and patients each and every day. The honorees are star performers through their dedication to patients and teamwork, ensuring that care is safe, quality-driven and cost-effective for consumers, as well as for the organizations they represent.
###
About Great Plains Health
Great Plains Health in North Platte, Nebraska, is a nonprofit, fully accredited, 116-bed regional referral center serving west Nebraska, northern Kansas and northern Colorado. In total, our primary and secondary service areas span 34 counties, 136,000 lives and approximately 67,832 square miles, about the size of the state of Pennsylvania. With nearly 100 physicians representing over 30 medical specialties, the Great Plains Health system offers advanced medical services, including heart and vascular, cancer, orthopedic services, women's services, and a level III trauma center. The system employs approximately 1,100 employees and has more than 200 volunteers. The range of patient populations served includes neonatal, pediatric, adult, obstetric and geriatric.
About the Nebraska Hospital Association
The Nebraska Hospital Association is the unified voice for Nebraska's hospitals and health systems. The association offers collaborative leadership, assisting its members to provide comprehensive care to their communities and improving the health status of those communities. For more information, visit the NHA website at NebraskaHospitals.org.