Dr. Lee Warren leads first stereotactic brain biopsy in Great Plains Health's history
Hospital news
|
Thursday, April 21, 2022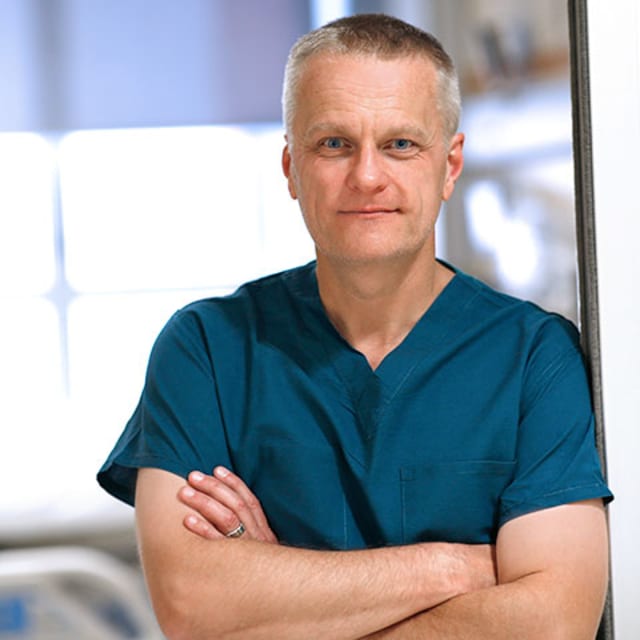 Contact: Mary Roberts
North Platte, Neb., April 21, 2022 – Dr. Lee Warren, neurosurgeon at Great Plains Health Brain & Spine, successfully led the first image-guided stereotactic brain biopsy in Great Plains Health's history. Unique technology and innovative teamwork made the procedure possible.
Since Dr. Warren's arrival to Great Plains Health almost two years ago, delivering these brain surgeries to Greater Nebraskans was a top priority, but it required time to build the infrastructure to support the procedure. A brain biopsy is a surgery where brain tissue is removed for testing in order to confirm a diagnosis.
"It is one more thing that our patients can receive at a world-class level right here," Dr. Warren says. "When you're dealing with something unfamiliar, it's scarier in a place you don't know, in a town you don't know, with providers you've never met. At Great Plains Health, we know that our patients will get these procedures and recover in their home and with their family. It brings another layer of peace of mind that, whatever happens, Great Plains Health is committed to our patients receiving care at home."
Great Plains Health partners with Pathology Medical Services of Lincoln, Neb., in order to bring telepathology to Great Plains Health. This technology enables a pathologist in Lincoln to read the results of the biopsy within 20 minutes of the procedure's completion.
Jackie Rotramel, pathologists' assistant, and the Great Plains Health Pathology team, are an integral piece to the process.
"It was a great interdisciplinary effort to make this happen," Rotramel says. "We're able to tap into specialized resources ​and open the door for patients who we weren't able to assist in years prior. These patients are able to get answers quickly and don't have to drive far."
Dr. Warren says that the surgery went flawlessly and that everyone involved in the case performed their roles as though they had been doing the procedure for years.
"We have world-class things happening in this community because our board of directors, local leaders and administration have committed to doing that for this community. There aren't many places in the country where a town of our size has a neurosurgeon, robotics for general surgery, a cancer center, interventional cardiology and more," Warren says. "My wife Lisa and I are proud to be here."
Ivan Mitchell, CEO at Great Plains Health, says he is grateful for Dr. Warren, Pathology Medical Services and this unique collaboration.
"We appreciate the talent, innovation and resources that allow this service to our patients," Mitchell says. "Dr. Warren is a living example of our mission to put the patient first – always. It is exciting to envision how this will expand neurological care for our community now and in the future."
###
About Great Plains Health
Based in North Platte, Nebraska, Great Plains Health is a fully accredited, 116-bed acute-care regional medical center serving western and central Nebraska, northern Kansas and southern South Dakota. With 90 physicians representing nearly 30 medical specialties, the Great Plains Health system offers advanced health care, including heart and vascular, cancer, and orthopedic surgery services. Great Plains Health is a Level III trauma center, and all of its emergency department physicians are residency-trained and board-certified in emergency medicine. The system employs approximately 1,200 employees and serves a geographic area spanning approximately 16,000 square miles.
The hospital is accredited by the Center for Improvement in Healthcare Quality (CIHQ) and is home to an American College of Surgeons-accredited cancer center and Level II bariatric surgery program. For more information, visit gphealth.org.