New tools can help you make 2018 the year you give up smoking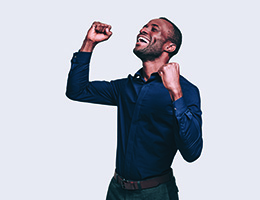 Jan. 11, 2018—If you've tried to quit smoking before, the U.S. Food and Drug Administration (FDA) wants you to give it another shot. Their new campaign "Every Try Counts" encourages cigarette smokers to give up the habit for good.
Rethinking cigarettes
Research shows that people who've tried to quit smoking before are likely to try again. And it often takes many attempts before quitting permanently.
One of the ways the new campaign urges smokers to try to quit again is by helping them rethink their next purchase of cigarettes. Messages that emphasize the health benefits of quitting will be displayed in and around gas stations and convenience stores—places where smokers usually see ads encouraging them to buy cigarettes.
A 'quitting buddy'
A major feature of the campaign is the way it uses technology to support quitting. This includes offering text messages designed to help smokers learn skills and gain confidence to quit. This makes your phone a "quitting buddy." Text messages include daily challenges and support to practice quitting and quit for good.
The campaign also offers a free app called QuitGuide. It can help smokers track cravings, identify triggers and monitor their progress while offering support to cope with stress and bad moods.
Still a battle
FDA says it's committed to helping smokers quit. Smoking is responsible for about 480,000 deaths in the United States each year. Even though the rate of smoking among adults is going down, about 15 percent of U.S. adults were cigarette smokers in 2015. That's about 36.5 million people. And although more than half of those smokers tried to quit that year, only about 7 percent were successful.
Want to get serious about quitting? Try the services offered by the campaign. Your doctor is a good resource too. And check out this article: "Medications to Help You Quit Smoking."