Dads of preemies even more stressed than moms, study finds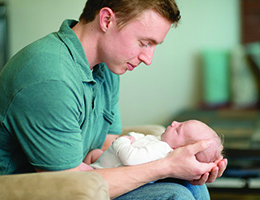 Jan. 12, 2018—Taking a premature baby home from the hospital can be a stressful time for the baby's mom. But it may be even harder on the baby's dad, according to a new study.
Preterm babies usually weigh less and have more health problems than babies carried to full term. It can be daunting for parents who are taking their infant home and out of professional hospital care for the first time.
Measuring preemie-parent stress
Researchers measured the stress levels of both parents after their preterm baby went home from the neonatal intensive care unit. Saliva samples were taken from mom and dad the day before baby was discharged and several times at home over the next two weeks. The at-home samples were taken both in the morning and before bedtime.
The saliva samples were checked for a change in cortisol levels during the day. Cortisol is a hormone related to stress. How much it decreased throughout the day allowed researchers to assess how much stress a parent was experiencing.
The parents also filled out diaries and took two tests each time their saliva was sampled. One test measured how stressed out mom and dad felt. The other test measured how the parents felt about their ability to care for their fragile newborn.
Dads' stress levels higher
During the first two weeks at home, both parents had some changes in stress levels. But while moms' stress levels stayed fairly constant and even returned to pre-discharge levels, dads' stress levels tended to rise. The dads' distress worsened during the time at home, the study authors wrote. Moms seemed better able to adapt to their situations.
Interestingly, dads weren't aware of or didn't report their stress being so high. This could point to the need for more research on biological markers for stress in new parents of premature babies.
The study was published in the Journal of Perinatal and Neonatal Nursing.
What parents can do
The authors had several suggestions for reducing stress on dads of a preterm infant. One was for dads to get more education and support prior to a baby's discharge. In this study, dads who felt more confident in their parental abilities were less stressed.
The researchers also suggested that both moms and dads of preemies give each other respite time once they get home. For example, they could urge each other to go to the gym or out with friends.
For more information on caring for baby, visit our Babies health topic center.