It may be easier to get the flu than you think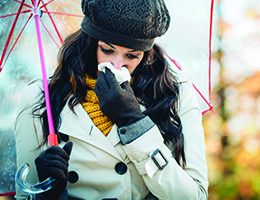 Feb. 12, 2018—Many people think they can get the flu by being around coughs or sneezes, or by touching contaminated surfaces. But it might not be that complicated. A new study suggests that the virus might be shared just by breathing.
How the flu spreads
Influenza virus—commonly referred to as flu—can seem all-too-easy to catch. Now, a study published in the Proceedings of the National Academy of Sciences might explain why.
Researchers found that people with the flu contaminated the air around them just by breathing. Coughing and sneezing weren't necessary to spread the virus. Breathing alone put the contagious virus into the air.
The findings were from just one study, but the research is timely. According to Centers for Disease Control and Prevention (CDC), the flu has certainly been active this year. All U.S. states except Hawaii report widespread flu. And 39 states, plus New York City and Puerto Rico, are experiencing high influenza activity.
Did the flu get you?
You might have the flu if you have some of these symptoms:
Fever.
Cough.
Sore throat.
Runny or stuffy nose.
Body aches.
Headache.
Chills.
Fatigue.
Diarrhea and vomiting.
Not everyone with the flu will have all of these symptoms. This is especially true of fever. But know the symptoms so you know what to look for.
You have the flu—now what?
The flu is often a mild illness. It generally doesn't require medical care or antiviral drugs.
It can be more serious though, especially for people in high-risk groups. These include pregnant women, people 65 and older, young children and those with certain medical conditions. CDC recommends that people at high risk get antiviral treatment as early as possible. If you're concerned about the illness or are very ill, contact your doctor.
For most people, having the flu means staying home and avoiding contact with others. If someone in your home has the flu, consider setting up a sickroom to help others in the family stay as healthy as they can. Check out our sickroom infographic to learn how.
CDC recommends staying home for at least 24 hours after your fever is gone. This means the fever has gone away and isn't just subdued by a fever-reducing medicine like Tylenol. You should stay home from work, school, travel, shopping and social events.
If you must leave home, wear a mask if you have one. Cover coughs and sneezes with a tissue. And wash your hands often.