Patient care is impacted daily through gifts to Great Plains Health Care Foundation
Our donors make a major impact on Great Plains Health Care Foundation funded programs. Whether through a gift toward a specific program or a general gift, the result is clear—lives are changed, and the health of our community is vastly improved.
Listed below are our yearly contributions to patient care, totaling over $1,000,000. Please contact the Foundation if you are interested in making a contribution to a specific area.
Atrium bathroom doors, wave-to-open device
Bedside cabinets
BHS interventions
Cancer thermometers
Cancer Center painting group
Cancer Center survivors event
Cath lab construction
Christmas midnight cookie run
Clinic iPads
Clothing closet
Comfort cart
Cancer Center radiation upgrade
EEG portable machine
Emergency department construction
Employee assistance
Footsteps grief camp
Genii Unit for special procedures
Hematrax
Home pulse oximeters
Hospice
Manual blood bank station
Panda unit for the care of neonates
Patient assistance
Patient lift wound care
Portable ultrasound - Mindray
Postpartum hemorrhage carts
Remembrance ceremony lighting
Sideline tent for sports injuries
Stand up desks
Stop the bleed trauma kits
Stryker Venom probes
TeamCare
Vision Spot screening device
Wheelchairs/transfer chairs
Blood Bank HemaTrax interface
Callahan Cancer Center painting group
Cancer telehealth support
Car extractor patient lift
Car seat training
Ceiling lift for wound care patients
Clothing closet
Comfort cart
Cuddle Cot for infant demise care
Diabetes patient supplies
Distraction kits
EEG equipment upgrade
Emergency department construction
Employee support
Footsteps Grief Camp
Fund SANE/SART RN training
Glucose monitoring equipment
Handicap bathroom door openers
Home pulse oximeters
Hospice department support
Hospice patient monitors
Laptops for hospice
Lincoln County Keep Kids Safe (LinCKS)
Manual blood bank station
Midline team portable ultrasound
Patient assistance
Perinatal death training
Simulator equipment and training room
Sunscreen kits
Team care - tools for staff providing traumatic care
Translation stations
In addition to completing emergency department expansion funding, donor gifts helped to fund the following projects throughout the hospital in 2017:
Clothing Closet The clothing closet provides for patients who need an article of clothing upon dismissal. The closet will provide patients with sweats, t-shirts, coats, underwear, socks & slippers. This service is managed by the GP Volunteer Auxiliary and case management.
Diabetes Education Offering GP Health dieticians new training materials for patients of all ages.
I-STAT Monitor for the Imaging center The I-STAT monitor performs blood testing and streamlines the process for patients, no longer requiring them to perform lab work at the hospital prior to completing their test at the Imaging Center.
Maternal birthing and Neonatal educational simulators The addition of two new state-of-the-art patient robots (Victoria, mom and Tori, baby) to the GP Health simulation lab will not only benefit nursing staff in Women and Children's, but also be used for training medical providers, residents, emergency room staff and respiratory therapists.
Lincoln County Keep Kids Safe (LinCKS) GP Health Care Foundation sponsored 5 GPH staff members to attend and become certified car seat installers. Currently, 9 out of 10 car seats are installed incorrectly.
BEAM project for image sharing. The project provides GP Health the ability to securely transfer images to many different outlets and also allows for receiving images. This project decreases the need for repeat exams, repeat burning of CD's for patients needing to take images out of network and/or not having the correct information on CD's for patients.
Interfaces for the Cepheid PCR instrument and Bio-Fire PCR instrument. Previously, lab results had to be manually entered for each patient and double checked. The interface automatically enters the data into the patient record, to ensure the patients safety and eliminates the potential for human error.
Activity pillows. Activity pillows are used for inpatients who experience anxiety or agitation. The pillows serve as a distraction so patients don't focus on pulling out IV's, catheters, etc.
Aladdin Temp-Rite on demand. The heat on demand system assists GPH to serve patients hot meals. The current system no longer holds temperatures and impacts the patient experience.
QI program for Radiology. The program provides the radiologists a structured program to provide feedback to radiology technologists on image quality to provide better care for patients.
Cancer Center. The pharmacy IV med room required a remodel to meet new governmental standards for mixing and delivering oncology drugs.
2017 F350 Pickup. A pickup was purchased in order to transport the sports & therapy trailer to sporting events throughout the region for outreach services during sporting events/rodeos.
AEDs. Defibrillators were purchased for the Sports/Therapy department for use during outreach services at local area sporting events.
Cancer Center. 16 new patient recliners were purchased for oncology chemotherapy and exam rooms.
Imaging Center. A bench was purchase and installed outside the imaging center for patients wanting fresh air, or waiting for a ride.
Bleeding kits. Disposable triage kits were provided throughout the community and to EMT providers as our GPH educators provided Stop the Bleed education.
Handi-Bus punch cards. Punch cards were purchased for Home Health and Hospice patients that cannot afford transportation to appointments.
DVDs. Hospice educational videos were purchased to share with families dealing with end of life changes of a loved one.
Comfort Cart. The cart provides small incidental items such as toiletries, game books and other items that help make a patients stay even better at GPH.
Footsteps Grief Camp. A camp is held each year for families with children coping with the death of a loved one. In 2017, the event was held at Camp Comeca in Cozad.
Hospice volunteer program. The Foundation helps fund the volunteer program which includes educational training material and support for our volunteers.
Cancer Center Painting Group. The Foundation provides funding for this weekly group of patients who would like to pursue art therapy as a coping strategy.
Patient assistance. Support is offered, usually through the case management department, for patients experiencing extreme financial hardship. Types of aid include gas cards, medication assistance, diabetes supplies, digital scales for congestive heart failure patients and other small medical equipment.
Emergency Department fundraising. The $3.5 million fundraising goal was achieved for the ER expansion, resulting in an additional gift of $5 million from Bill and Ruth Scott.
Update 2.18
Great Plains Health Care Foundation is pleased to announce that construction on our emergency department is scheduled to begin this spring! Updates, announcements and pictures will be provided on this page, so please be sure to check back on our progress throughout the next 24 months.
The expansion will take place in three phases, since the emergency room must remain operational throughout the project. The following graphic depicts the different phasing of the project.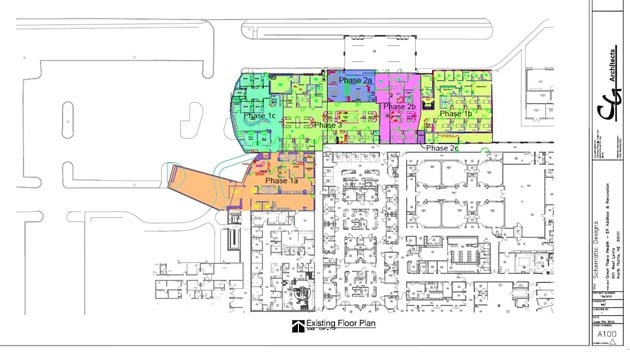 Update 10.17
As usual in the healthcare industry, many things have changed since we embarked on our journey to expand and renovate the emergency department. Once fundraising goals were announced in April 2017, the Hospital Board planning and strategy committee recommended that original plans be reviewed to ensure the design still met the current and future needs of patients, providers and staff.
Our commitment to build responsibly and appropriately for the current and future healthcare needs of the region remains as strong as ever. That is exactly why we are taking ample time to ensure that we provide the highest value to our patients and donors. Great Plains Health will continue to balance community healthcare needs with a strong financial base in order to ensure that our generation and generations who come long after us have access to quality healthcare services in North Platte.
Over the last 25 years, donors have gifted over $20 million to support the mission of Great Plains Health Care Foundation, making the following projects possible.
The purchase of 3-D mammography imaging technology.
The purchase of an outreach treatment trailer for Great Plains Sports & Therapy at regional athletic and rodeo events.
Installation of commissioned artwork throughout GP West, highlighted and incorporated into an art tour for patients and guests.
The Get Well Network—an interactive patient education and communication system featured in the private patient rooms at Great Plains Health. This is the first system of its kind in Nebraska.
A $1.3 million gift toward the purchase of a new state-of-the-art linear accelerator used for radiation oncology at the Callahan Cancer Center.
Comprehensive funding for the Great Plains Gardens. The gardens include a Healing Garden for patients and visitors as well as a Gathering Garden for outdoor dining and events.
An elliptical machine for Behavior Health Services.
State-of-the-art linear accelerator for radiation oncology.
A treadmill for Cardiac Rehabilitation Services.
Infant bereavement counseling training for staff.
Patient lifts for Callahan Cancer Center.
First aid training for student managers and coaches.
Cardio check machine for cardiac screenings.
Lift chair for hospice patients.
Neurological sciences: Over $130,000 was raised at the 2011 Gala, Casino Royale. Funds were used to purchase new electroencephalogram video (EEG) equipment, additional computer monitoring equipment and software for sleep studies, and Telemedicine equipment for acute stroke treatment.
Great Plains Heart & Vascular Center: Funds raised at our 2010 Gala supported the purchase of the Volcano Imaging System. The system is used in diagnosing and treatment planning for vascular blockages.
Neurology equipment fore treatment of stroke, epilepsy and sleep disorders.
Orthopaedic surgery robotic equipment
Women's services monitoring equipment