The Foundation is grateful for your support.
You are helping create a better patient experience.
Your gift is part of your legacy, a promise to the future of Great Plains Health and the health of the entire region.
A donation can be made as an outright cash gift, a multi-year pledge or a planned gift. Ways to give also include estates or property and gifts of commodities. Every gift the Foundation receives makes a difference in the ability to further the mission through enhancements in patient care and patient experience. In an effort to appropriately acknowledge donations at all levels of giving, the Foundation established giving clubs and donor programs to thank and recognize our generous investors, both annually and cumulatively. Foundation committees oversee the giving clubs and are charged with building better relationships with donors through events and improved communication.
Donors will be automatically recognized on the Foundation's donor wall, updated annually, in the lobby of Great Plains Health under the appropriate giving club, and will be notified of upcoming Great Plains Health and Great Plains Health Care Foundation events. Donors also receive the Foundation e-newsletter.
Here's our latest newsletter.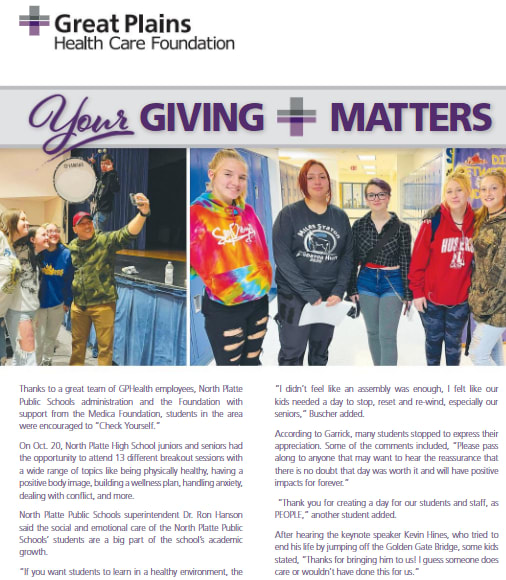 Click on the any link below for more information.
Partners in Health | Individuals or business partners
Employee gifts
Tribute gifts
Planned gifts
Cumulative gifts
Since its founding over 40 years ago, Great Plains Health has been dedicated to promoting health and healing to countless patients and their families.
Great Plains Health Care Foundation was formed to support this mission through generous gifts and donations from across the region. The role of the Foundation ensures that the mission is sustained and the healthcare services, facilities and technology we now offer are strengthened and expanded to meet the needs of present and future generations.
Giving club recognition and membership is automatic, based on a donor's cumulative annual giving. Gifts to Great Plains Health Care Foundation are tax-deductible as permitted by law.