Executive team
Senior leadership team
Marcia Baumann, vice president of physician services, is responsible for all physician recruitment and retention and medical credentialing services. Baumann has been with Great Plains Health for more than 20 years and has recruited well over 100 physicians to the North Platte area. She does so out of a passion for the community and the belief in the health system. Her focus is on finding the right candidate and the right fit for the organization.
Baumann earned her master's of education degree with an emphasis in business and her bachelor's in education from the University of Nebraska in Lincoln.
During her time with Great Plains Health, Baumann has held a number of interim positions, including executive director of the North Platte Nebraska Physician Group, and the vice president of development. Baumann is an active member of the North Platte community, most currently, serving on the Mid Plains Community College Foundation Board.
Before joining Great Plains Health, she was the office administrator for a law office in North Platte and an instructor in business at two Nebraska high schools.
Department responsibilities
Physician recruitment

Medical staff services
Medical staff credentialing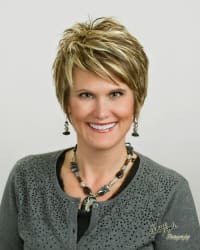 Kathy Bourque serves as the executive director of the Great Plains Health Care Foundation. Prior to serving GPHealth in this capacity, Kathy was the senior director of patient experience at Great Plains Health.
Her background is in small business and as a community volunteer. She was a longtime member of two health system boards including the Great Plains Health Board (where she led the quality committee) and the Great Plains Health Care Foundation Board.
Kathy received a master's degree in organizational leadership from Western Governors University and a bachelor's degree in business management and marketing from Chadron State College.
Kathy Bourque
Great Plains Health Care Foundation Executive Director
bourquek@gphealth.org
308.568.7411
Department responsibilities
Volunteer services
Gift shop
Valet services
Jayne Johnson is the Senior Director of Human Resources at Great Plains Health. Jayne began her career at GPHealth in 1993 in behavior health services and also worked in med/surg, renal and peritoneal dialysis case management. In 1996, she moved to the role of medical social worker for home health and hospice. Her journey in human resources began in 2005, when she became the recruitment coordinator. Jayne worked her way to manager in 2011 and became the senior director in 2013.
She is the current president of Community Connections, serves as a member of End of Life Coalition, on advisory boards for Lutheran Family Services, the Surgery Center board, North Platte High School business partners, Lincoln county guardianship committee and numerous GPHealth committees over the last 26 years.
Jayne received her Bachelor of Arts degree from Chadron State College and her Masters of Social Work from the University of Nebraska-Omaha.
Monica Lynch is the senior director of Finance at Great Plains Health. Monica began her career at GPHealth in 2012 as the accounting manager. In 2013, Monica was promoted to the director of accounting leading the accounting team and overseeing all function including payroll, AP, subsidiaries and regulatory reporting. In 2017, Monica continued her journey at GPHealth to become the senior director of finance. In this role, she works closely with the CFO and senior leadership to direct financial strategies and planning processes. Responsibilities include oversight of accounting functions, budgeting, decision support and treasury management.
Monica has more than 30 year of accounting experience extending from various industries including construction, agriculture, manufacturing, and utility before joining health care at Great Plains Health.
Monica received her Bachelor of Science degree from Iowa State University.
Lori Schoenholz, MSN, RN, is the senior director of nursing informatics at Great Plains Health. Lori works with the information systems team, physicians and the nursing team to ensure successful use, maximum application and optimal deployment of EPIC, the electronic medical record system that is used throughout the Great Plains Health system.
Lori has more than 30 years of nursing experience extending from long-term care, dialysis, acute care, home visitation, clinical informatics and clinical consulting. In addition, she has spent 15 years of her career in leadership roles serving as a chief nursing officer in two organizations.
Lori obtained her nursing diploma from Mary Lanning Hospital School of Nursing in Hastings, Neb., her Bachelor of Science in nursing from Chamberlain College of Nursing and her Master of Science in nursing degree from Walden University.
Department responsibilities